ImgBurn mali besplatan program sa velikim mogućnostima, za rezanje diskova
ImgBurn je jedan od mnogih besplatnih programa za narezivanje CD-a, DVD-a i BD-a (Blue ray). Interfejs ovog programa se sastoji iz dva dela, gornji prozor koji prikazuje šest glavnih funkcija i drugi koji prikazuje log fajl.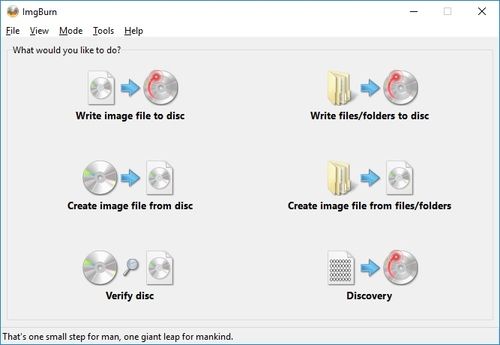 U glavnom prozoru možete odabrati opcije: Write image file to disc – Narezivanje image fajlova kao što su ISO, NRG i dr. na disk, Write files/folders to disc – Narezivanje direktorijuma i datoteka na CD, DVD ili BD, Create image file from disc – pravljenje image fajla od cd, dvd ili bd diska, Create image file from files/folders – Snimanje u image fajl direktorijuma i datoteka, Verify disc – provera cd-a, dvd-ja ili bd-a, Discovery – testiranje kvaliteta rezanja optičkih uređaja.
Pojedinačnim modovima za obavljanje različitih zadataka sa diskovima se može pristupiti i preko menija "Mode" koji sadrži opcije Read – snima disk u sliku (image file), Build – pravi sliku (image file) od datoteka i direktorijuma ili ih može direktno narezati na disk, Write – Rezanje image fajla (slike) na disk i rezanje audio CD-a, Verify – provera da li je čitljivost diska 100%, Discovery – testiranje rezača i medija. Koristi se u kombinaciji sa programom DVDInfoPro gde možete proveriti kvalitet rezanja i kvalitet diskova. Preko menija Mode možete se vratiti na početni prozor klikom na opciju "Ez-Mode Picker…".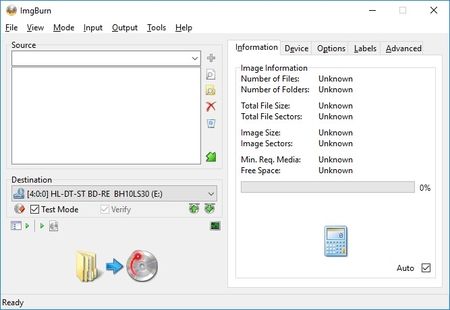 Pored klasičnog narezivanja podataka, rezanja audio diskova i rada sa image fajlovima, sa ovim besplatnim softverom možete praviti i dvd video diskove iz VIDEO_TS foldera, Blu Ray video diskove iz BDAV / BDMV foldera, kao i HD DVD Video diskove iz HVDVD_TS foldera.
Podržava veliki broj image fajlova i to: APE, BIN, CCD, CDI, CDR, CUE, DI, DVD, GCM, GI, IBQ, IMG, ISO, LST, MDS, NRG, PDI, UDI.
Formati od kojih se mogu narezati Audio diskovi su: AAC, AC3, DTS, FLAC, M3U, M3U8, M4A, MP3, MP4, MPA, MPC, OGG, OPUS, PCM, TAK, WAV, WMA, WV.
Log fajl prikazuje važne informacije o radu programa i stalno je aktivan.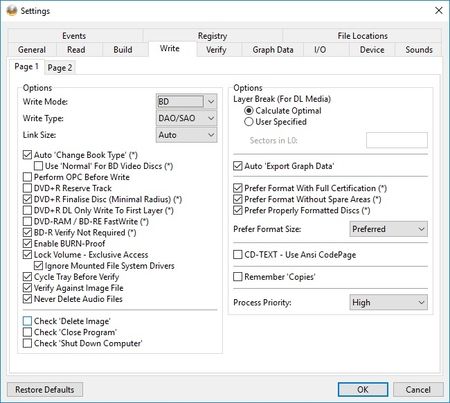 Ovaj program za rezanje diskova ima veliki broj podešavanja kojima se pristupa preko Tools =>Settings… Opcija Settings ima dvanaest jezičaka (tabova): General, Read, Build, Write, Verify, Graph Data, I/O, Device, Sounds, Events, Registry, File Locations, gde možete u najsitnije detalje podesiti ovaj program.
ImgBurn se može koristiti na Windows-u 95, Window-u 98, Windows-u Me, Windows-u NT4, Windows-u 2000, Windows-u XP, Windows-u Vista, Windows-u 7, Windows-u 8/8.1 i Windows-u 10, na 32-bitnim i na 64-bitnim verzijama. Ovaj program za rezanje smo instalirali i na Linuxu preko aplikacije Wine i funkcioniše bez ikakvih problema. Interfejs ImgBurn-a je preveden na mnoge jezike.
Uputstva, tutorijale i sve ostalo u vezi ovog programa za rezanje imate detaljno na veoma aktivnom forumu ImgBurn-a.
U današnje vreme ima mnogo programa za rezanje kako besplatnih tako i komercijalnih i nije lako izabrati koji je najbolji. Posle CDburnerXP-a kojeg smo opisali u jednom od tekstova, najviše nam se dopao ImgBurn. Jednostavan, dobro organizovan, interfejs mu je lak za upotrebu, zauzima malo prostora na HDD-u, besplatan i moguće je uraditi sve moguće operacije vezane za CD, DVD, BD i image fajlove. A i prilikom svakog uključivanja programa dočekaće vas šaljive poruke u donjem delu početnog prozora.
Ovaj odličan program za rezanje diskova možete besplatno skinuti sa web adrese:
The ultimate image burner