AdwCleaner
alat za uklanjanje
problematičnih
komponenti
AdwCleaner je alat koji pronalazi i uklanja problematične i nepotrebne komponente kao što su: adware, toolbarovi, potencijalno neželjeni programi (PUP – Potentially Unwanted Programs) i browser hijackers -i.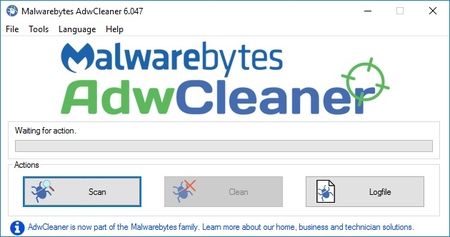 Ovaj zaštitni program sastoji se od samo jednog izvršnog fajla. Može se pokretati i sa usb fleš memorije ili eksternog hdd-a. Prilikom pokretanja program kreira direktorijum "AdwCleaner" na C: particiji u koji se smeštaju datoteke potrebne za rad, log fajlovi i karantin za maliciozne komponente.
Kada startujete program videćete jednostavan interfejs. Klikom na dugme Scan pokreće se pretraga.
Kada program završi sa skeniranjem spisak eventualnih neželjenih komponenti rasporediće u Services, Folders, Files, DLL, WMI, Shortcuts, Scheduled Tasks, Registry i Web browsers jezičke. Ovde možete odčekirati komponente koje ne želite da obrišete. Pritiskom na Clean sve obeležene komponente se brišu. Posle završetka procesa čišćenja potrebno je restartovati računar. Restart kompjutera nije moguće odložiti. Pre restarta snimite otvorene dokumente na kojima radite i zatvorite aktivne programe.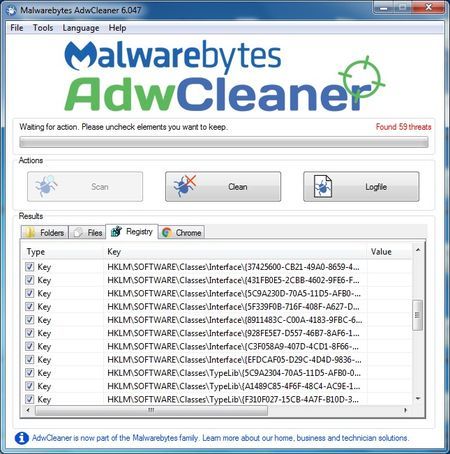 Sve obrisane stavke se smeštaju u karantin i tamo ostaju sve dok se program ne deinstalira. Deinstaliranje se može izvršiti i iz samog programa što je jedinstvena funkcija, a to možete uraditi preko menija File => Uninstall.
Ukoliko želite da povratite neku stavku to možete uraditi preko Quarantine Manager-a (Tools => Quarantine manager). Obeležite stavke koje želite da povratite i pritisnete dugme Restore.
Ukoliko želite kompletan izveštaj o pronađenim komponentama, možete otvoriti Log datoteku klikom na dugme Logfile. U ovom fajlu je prikazano sve što je očišćeno po kategorijama: Services, Folders, Files, DLL, WMI, Shortcuts, Scheduled Tasks, Registry, Web browsers.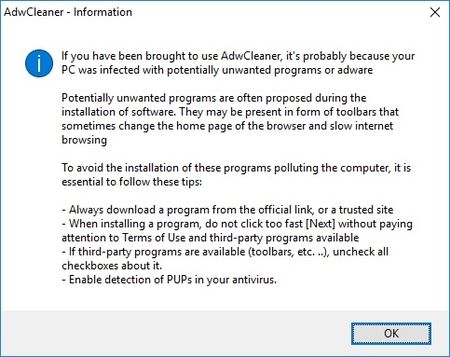 AdwCleaner se može koristiti na Windows-u XP / Windows-u Vista / Windows-u 7 / Windows-u 8/8.1 i Windows-u 10, kako na 32-bitnim, tako i na 64-bitnim verzijama. Ovaj besplatni program je preveden na više jezika.
AdwCleaner je jedan od najboljih programa u svojoj klasi i sada je postao "član" Malwarebytes familije programa. Ovaj alat je odlična dopuna antivirusu i preporučujemo da barem jednom mesečno skenirate računar, proverite da li ima neželjenih komponenti i očistite ih.
Ovaj sigurnosni alat možete skinuti sa sajta: