SMPlayer kompletan multimedijalni plejer
SMPlayer je besplatan medija plejer za Linux i Windows sa ugrađenim kodecima, koji može reprodukovati skoro sve audio i video formate. Napravljen je na bazi dobro poznatog MPlayera. Interfejs je lepo dizajniran, jednostavan i sve funkcije su lako pristupačne. Ovaj plejer dolazi sa nekoliko skinova i različitih ikonica tako da lako možete promeniti izgled prozora klikom na Options => Preferences => Interface.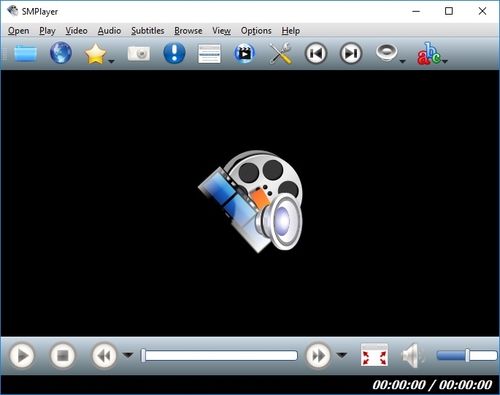 Najvažniji ulazni formati, audio i video kodeci koje podržava SMPlayer su:
MPEG-1 (VCD) i MPEG-2 (SVCD/DVD/DVB) video
MPEG-4 ASP u svim varijantama, uključujući i DivX ;-), OpenDivX (DivX4), DivX 5 (Pro), Xvid
MPEG-4 AVC aka H.264
Windows Media Video 7/8 (WMV1/2)
Windows Media Video 9 (WMV3)
RealVideo 1.0, 2.0 (G2)
RealVideo 3.0 (RP8), 4.0 (RP9)
Sorenson v1/v3 (SVQ1/SVQ3), Cinepak, RPZA i drugi QuickTime kodeci
DV video
3ivx
Intel Indeo3 (3.1, 3.2)
Intel Indeo 4.1 and 5.0
VIVO 1.0, 2.0, I263 i druge H.263(+) varijante
MJPEG, AVID, VCR2, ASV2
FLI/FLC
HuffYUV
razni stari jednostavni RLE formati
MPEG layer 1, 2 i 3 (MP3) audio
AC3/A52, E-AC3, DTS (Dolby Digital) audio (software ili SP/DIF)
AAC (MPEG-4 audio)
WMA (DivX Audio) v1, v2
WMA 9 (WMAv3), Voxware audio, ACELP.net, itd.
RealAudio: COOK, SIPRO, ATRAC3
RealAudio: DNET i stariji kodeci
QuickTime: Qclp, Q-Design QDMC/QDM2, MACE 3/6 (QT libraries), ALAC
Ogg Vorbis audio
VIVO audio (g723, Vivo Siren)
alaw/ulaw, (ms)gsm, pcm, *adpcm i drugi stariji audio formati
(S)VCD (Super Video CD)
CDRwin's .bin image file
DVD, uključujući i kodiran DVD
MPEG-1/2 (ES/PS/PES/VOB)
AVI file format
ASF/WMV/WMA format
QT/MOV/MP4 format
RealAudio/RealVideo format
Ogg/OGM fajlovi
Matroška
NUT
NSV (Nullsoft Streaming Video)
VIVO format
FLI format
NuppelVideo format
yuv4mpeg format
FILM (.cpk) format
RoQ format
PVA format
striming preko HTTP/FTP, RTP/RTSP, MMS/MMST, MPST, SDP
TV grabbing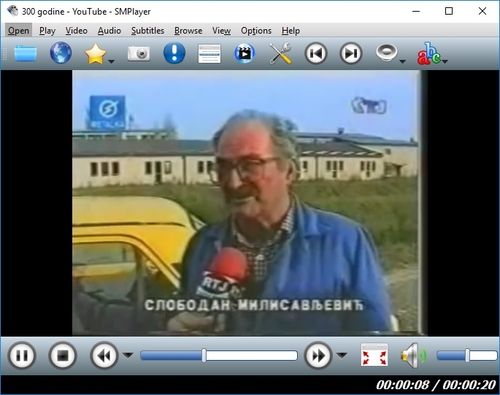 Pored svih ovih formata preko SMPlayera možete puštati i klipove sa youtube-a. Kliknete na Open => URL (ili prečicom CTRL+U na tastaturi) i unesete web adresu.
DIrektno skidanje titlova sa sajta opensubtitles.org je još jedna korisna funkcija ovog plejera za kompjuter (Meni Subtitles => Find subtitles at OpenSubtitles.org).
Postoji i puno drugih podešavanja kao što su audio-video ekvilajzeri, podešavanje brzine videa (Playback speed), podešavanje osvetljenja, kontrasta, boje, uklapanje videa i titla i dr.
Jedna od najzanimljivijih funkcija je da pamti sva podešavanja za fajlove koje reprodukujete. Ukoliko ste počeli da gledate film i morali neodložno da odete, sledeći put kada pokrenete isti film, SMPlayer će nastaviti sa iste pozicije na kojoj ste prekinuli film sa istim podešavanjima kao što su jačina zvuka, podešavanja ekvilajzera, titlova i dr. Program u sebi ima i razne audio i video filtre kao što su: deinterlace, postprocessing, denoise, karaoke filter (uklanjanje glasa) i dr.
Ukoliko ste na računar povezali dva monitora ili televizor preko HDMI kabla možete puštati video na drugom ekranu ili TV-u dok na primarnom monitoru radite nešto drugo (meni Video => Send video to screen, pa izaberete drugi monitor ili TV)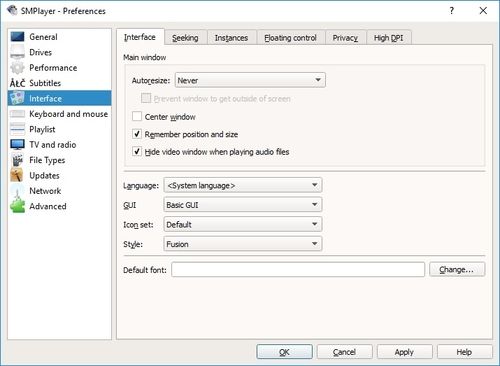 Druge mnogobrojne opcije možete podešavati preko menija Options => Preferences. Podešavanja su podeljena na: Opšte (General), Uređaji (Drives), Performanse (Performance), Prevodi (Subtitles), Interfejs (Interface), Tastatura i miš (Keyboard and mouse), Plejlista (Playlist), TV i radio (TV and radio), Vrste fajlova (File Types), Ažuriranja (Updates), Mreža (Network), Napredne opcije (Advanced).
Ovaj plejer za gledanje filmova, slušanje muzike i puštanje klipova sa weba na kompjuteru je lokalizovan na preko trideset jezika.
Ovaj plejer za PC je multiplatformski, može se instalirati na Windowsima XP, Vista, 7, 8/8.1 i 10, kao i na Linuksu. Koristi veoma malo sistemskih resursa desktop računara ili laptopa bez obzira da li se koristi na Linuksu ili Windowsu.
SMPlayer je najbolji video plejer otvorenog koda za Linux i jedan od najboljih besplatnih za Windows.
Može se skinuti sa adrese:
Medija plejer za Linux i Windows pod GPL licencom