Potplayer – vrhunski media player
Potplayer je besplatan video i audio player. Inače je usavršena (poboljšana i brža) varijanta KM player -a. Ovaj media player se ne oslanja na sistemske kodeke, već ima svoje, što sve više postaje standard kod ovakvih vrsta programa. Otvara skoro sve video datoteke, počevši od AVI, WMV, MP4, 3GP, FLV, MKV pa do onih ređe zastupljenih i sve najpoznatije audio datoteke. Besprekorno može da reprodukuje do hiljadu datoteka koje su unete u listu. U listi možete miksovati različite audio i video formate. Pored video i audio datoteka (MP3, WAV, FLAC, AAC, APE i ostalih) otvara i playlist -e, linkove sa audio i video zapisima (URL), web kameru, TV karticu (analogni i digitalni signal), podržava i sve vrste titlova, Video Capture, DVD i Blu Ray diskove, Audio CD, online TV i Radio stanice. Jednom rečju Potplayer otvara sve.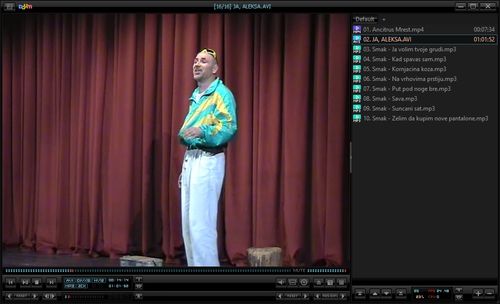 Potplayer je veoma jednostavan za korišćenje. Pored glavnog prozora tu je i playlist -a kao i prozor sa opcijama: Audio, Video, Subt, Play i A.Ratio. U opcijama postoje ekvilajzeri sa gotovim presetima, opcija za ponavljanje pesama, puštanje pesama preko reda slučajnim odabirom (shuffle), podešavanje osvetljenosti i kontrasta slike, odabir tipa fonta, veličine i boje fonta za titl, sinhronizacija titla, ubrzavanje ili usporavanje reprodukcije i dr.
Ovo su samo osnovna podešavanja. Tek kada otvorite Preferences videćete da postoji još puno opcija za podešavanje Potplayer -a.
Lepa stvar je što se program transformiše u audio ili video plejer svaki put, u zavisnosti od datoteke koja se reprodukuje.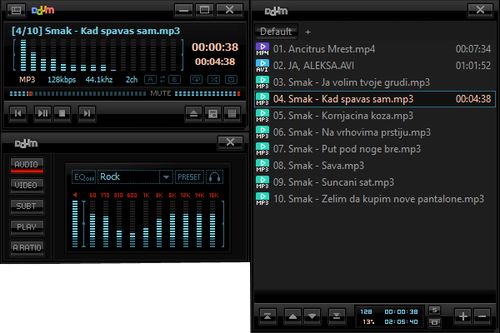 Osnovne prečice za Potplayer su:
F3 => Open File(s)…
F4 => Close File
Enter => Fullscreen (Keep AR)
Ctrl+Enter => Fullscreen (Stretch)
F5 => Preferences…
F6 => Playlist
F7 => Control Panel…
Ctrl+F1 => Playback/System Info…
F1 => About…
Alt+F4 => Exit
Ctrl+O => Open > Open File(s)…
Ctrl+U => Open > Open URL…
F2 => Open > Open Folder…
F12 => Open > Navigate Folders to Open File(s)…
Ctrl+F12 => Open > Navigate Menus to Execute an Operation…
Alt+F12 => Open > Open FTP/WebDAV/HTTP…
Ctrl+S => Open > Open Screen Capture
Ctrl+J => Open > Open Webcam/Other Device
Ctrl+W => Open > Open Analog TV
Ctrl+K => Open > Open Digital TV (BDA device)
Alt+D => Open > Device Settings…
Ctrl+D => Open > Open DVD
Ctrl+Alt+D => Open > Open Blu‐ray
Alt+O => Open > Load Subtitle…
Ctrl+Alt+Y => Open > Reload Subtitle
Ctrl+Y => Open > Reopen Current File…
A možete definisati i vaše prečice za bilo koju funkciju. Prečice koje vi odaberete imaće prioritet u odnosu na standardne. Ovo možete uraditi ako odete na Preferences => Keyboard => jezičak Keyboard.
Izgled ovog plejera za gledanje filmova se može menjati pomoću velikog broja skin -ova koji se mogu naći na internetu.
Postoje 32-bitna i 64-bitna varijanta ovog video plejera za PC.
Potplayer radi na Windows -u XP, Windows -u 7, Windows -u 8/8.1 i Windows -u 10.
Adresa za skidanje programa:
Plejer za reprodukciju filmova na kompjuteru