KM Player – video player
KM Player je najbolji video plejer za gledanje filmova i jedan od najpopularnijih na svetu sa preko tristotine miliona korisnika. Može da reprodukuje različite vrste audio i video formata, bez ikakvih posebnih kodeka jer ima svoje interne. Neki od formata koje podržava su: Matroska (MKV), MPEG-1/2, DIVX (1/2/3), MPEG-4 ASP, DivX 4/5/6, XviD, 3ivX D4, H.261, H.263 / H.263i, H.264 / MPEG-4 AVC, WMV 1/2, WMV 3 / WMV-9 / VC-1, Sorenson , 1/3 (Quicktime), DV (Digital Video), Indeo Video v3 (IV32), Real Video 1/2, Real Video 3/4, MP4 / MOV / 3GP, WMA 1/2, WMA 3, MP3, FLAC i drugi
Podržava HD video, WIDI, 3D i 4K (Ultra-high-definition television tj. UHD). Sa KM Player -om možete snimati audio, video i ekran (screenshot, screen capture) na mnogo načina. Interfejs je jednostavan i pregledan. Kada se startuje program u prozoru se nalaze osnovne funkcije za reprodukciju, jačinu zvuka, playlist editor – gde možete praviti i uređivati svoju listu za reprodukciju, Control box – gde možete podešavati video, zvuk, reprodukciju, titlove, uključivati razne audio i video efekte ili otvoriti prozor za detaljnije podešavanje KM player -a (preferences). Desnim klikom na bilo kojem delu prozora KMplayer -a otvara se meni sa najvažnijim i najčešćim opcijama vezano za sam program i reprodukciju. Ovde se mogu otvoriti video ili audio fajlovi, napraviti i urediti plejlista, pozivati najomiljeniji video (Favorites), podešavati ekran (Screen Controls, Pan & Scan), Podešavati reprodukcija – usporavati ili ubrzavati reprodukciju, izabrati najomiljenije delove, podešavati razna AB ponavljanja i drugo (Playback), Osnovno podešavanje videa (Video(Basic)), Napredno podešavanje videa (Video (Advanced)), Podešavanje zvuka (Audio), Učitavanje i rad sa titlovima (Subtitles), kontrola i podešavanje 3D -a, Snimanje zvuka, videa i hvatanje i snimanje ekrana (Capture), promena izgleda prozora KM Player – a (Skins), Promena jezika (Language) i drugo. KM Player može koristiti Winamp v2 / v5 "plaginove" i to: Input, DSP/Effect, Visualization i general-purpose. Winamp "plaginovi" se podešavaju preko opcije Preferences => Plugins. Ne rade svi bez problema. Neki od njih mogu zamrznuti KM Player.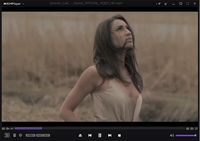 Lokalizovan je na preko 30 jezika. Korisnici sada mogu preuzeti KM Player za Android i iOS, pored Windowsa. Detaljno se može podešavati svaki aspekt KM video Playera, nudi mnoge napredne funkcije, izuzetno je prilagodljiv, interfejs je jednostavan, zato je među pet najboljih video plejer -a na svetu. Uz to je i besplatan.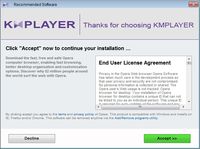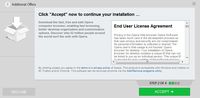 U novijim verzijama prilikom instalacije KM Playera na Windows -u opciono će vam biti ponuđeno da instalirate programe, toolbarove i sl. drugih kompanija kao što su: Opera Web browser, One System Care All-in-one PC Aid, Findwide toolbar itd. Ukoliko to ne želite kliknite na Decline kada se ovakva ponuda pojavi tokom instalacije KM Playera.
Link za skidanje programa:
Besplatni video plejer – download