SpeedFan podešavanje brzine ventilatora
SpeedFan je program koji prikazuje brzine ventilatora, napone, temperature sa senzora raznih komponenti, a možete i menjati brzinu ventilatora ukoliko vaš hardver to podržava i dr. SpeedFan nudi više informacija nego BIOS vaše matične ploče. Pored osnovnog praćenja rada računara, korisnicima omogućava rešavanje problema i različita prilagođavanja.
Interfejs je lepo organizovan u odeljke kroz koje se krećete preko jezičaka (kartica) u gornjem delu prozora. Podeljeni su na Readings, Clock, Info, Exotics, S.M.A.R.T. i Charts.
Readings prikazuje statistiku o korišćenju procesora, brzinu okretanja ventilatora, temperature, voltaže itd. Klikom na opciju Configure otvara se prozor za detaljnu konfiguraciju programa preko kartica Temperatures, Fans, Voltages, Speeds, Fan Control, Options, advanced itd.
Pod jezičkom Clock možete podešavati FSB (Front Side Bus). Ovo je napredna opcija i koristite je na svoju odgovornost tj. samo ako ste napredan korisnik i znate šta radite.
Preko Info jezička mogu se preuzimati unapred konfigurisane postavke za vašu matičnu ploču. Ova funkcija zahteva da se prijavite na SpeedFan websajt.
Exotics opcija prikazuje tabelarno u realnom vremenu sve podatke sa senzora klikom na dugme "Show the magic".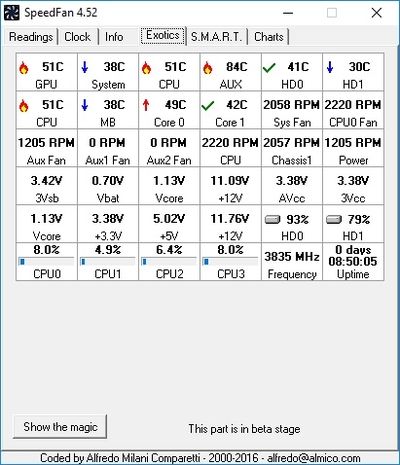 S.M.A.R.T. očitava i prikazuje informacije o hard diskovima i njihovo stanje.
Charts kreira grafikone od podataka dobijenih sa vašeg kompjutera. Možete Izabrati grafički prikaz očitanih temperatura procesora, grafičke karte, brzine okretanja ventilatora, napone, kako biste brzo mogli da identifikujete eventualne nepravilnosti u radu kompjutera.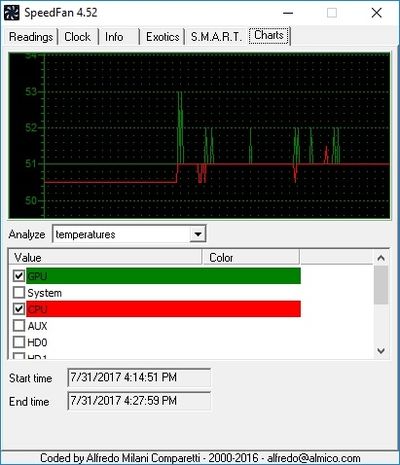 Prilikom minimizovanja program kreira ikonicu na taskbaru u oblasti za obaveštenja (System tray) pored sata i prikazuje temperature CPU, GPU, HDD, System-a. Speed Fan se može koristiti na svim verzijama Windowsa, 32-bitnim i 64-bitnim. Program je preveden na više jezika.
SpeedFan je besplatan program za PC koji vam pomaže da pratite različite aspekte vašeg sistema. Jasno prikazuje sve podatke zahvaljujući dobro organizovanom interfejsu. Aplikacija ima vrlo dobar odziv i pokazuje tačne informacije. Ovaj odličan alat je namenjen pre svega za napredne korisnike i servisere.
Besplatni uslužni alat možete skinuti sa web adrese: