Converter iz MP4 u MP3
Kada ste skinuli omiljenu muzičku numeru u video formatu sa youtube -a ili sa nekog drugog sajta ili ste snimili omiljeni muzički spot sa TV-a, sledeće je da to prebacite u MP3, radi reprodukcije sa ostalim numerama u vašoj listi u nekom od MP3 plejera. Najbolji converter iz MP4 u MP3 je besplatni program "Convert MP4 to MP3". Ovaj mali i jednostavan program "izvlači" audio zapis iz vaših video fajlova i konvertuje ih kvalitetno u najpopularniji MP3 audio format. Sa ovim programom, pored MP4 / MPEG4, možete konvertovati i iz AVI, DivX, Xvid, FLV (Flash Video), Quicktime Video (.mov), DVD video, VOB video i još nekih. Kvalitet konvertovanih MP3 numera je vrlo dobar.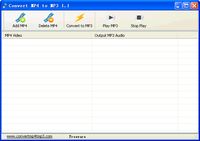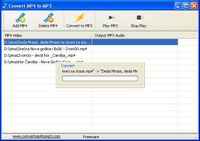 Kada instalirate i pokrenete "Convert MP4 to MP3" videćete da je interfejs veoma jednostavan. Postoje pet dugmeta: Add MP4, Delete MP4, Convert to MP3, Play MP3 i Stop Play.
Upotreba programa je veoma jednostavna. Klikom na "Add MP4" dodajete jedan ili više fajlova koje želite da konvertujete u MP3. Klikom da dugme "Delete MP4" brišete video fajl koji ste greškom dodali i koji ne želite da konvertujete u MP3. Posle dodavanja željenih video fajlova, koji su obično u MP4 ili FLV formatu kliknete na dugme "Convert to MP3". Otvara se prozor u kome izaberete izlazni direktorijum, odnosno fasciklu gde će se snimiti konvertovane MP3 datoteke. Nakon što izaberete jedan izlazni direktorijum, program će početi proces konverzije jedan po jedan fajl. MP3 fajlovi će biti sačuvani u direktorijumu koji ste izabrali. Kada konverzija bude završena možete obeležiti numere koje želite u listi i klikom na dugme "Play MP3" preslušati MP3 fajlove koji su konvertovan iz video datoteke. "Stop Play" dugme služi, jasno je, za prekid reprodukcije.
Podržano je dosta video formata iz kojih se može ripovati zvuk iz video fajla u MP3 fajl. Tako da ovaj Converter iz MP4 u MP3 može biti:
MP4 u MP3 konverter
MPEG u MP3 konverter
AVI u MP3 konverter
MOV u MP3 konverter
FLV u MP3 konverter
DVD u MP3 konverter
VOB u MP3 konverter
"Convert MP4 to MP3" je besplatan program, jednostavan za korišćenje i treba ga imati instaliran svako ko puno ripuje muziku iz MP4 u MP3.
Link za download programa: