XnView – program za otvaranje i uređivanje slika i fotografija
XnView je besplatni program za otvaranje, uređivanje i konverziju grafičkih fajlova i slika (fotografija). Podržava više od 500 grafičkih formata, a iste možete eksportovati u 70 formata. Radi na više platformi, Windows, MacOS X, Linux, postoji verzija i za android. Može se skinuti u tri verzije: minimalna, standardna i exstended. Postoji i XnView MP  –  poboljšana verzija programa. Sa XnView možete da pretražujete, pregledavate i organizujete svoje fajlove na brojne načine: Thumbnail View, FullScreen View, FilmStrip View, SlideShow with FX, Images Compare itd.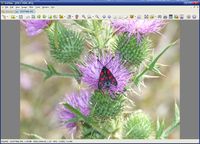 Startovanjem programa otvoriće se prozor koji liči na Windows Explorer. U gornjem levom uglu vide se sve particije i direktorijumi. Klikom na neki direktorijum u gornjem desnom delu prikazaće se sve fotografije i drugi fajlovi (kao što su MP3, MP4 i drugi video formati) koje XnView može da prikaže. Klikom na neku fotografiju ili sličicu, gif i sl. u donjem delu prozora prikazaće se ista, kao i tekst sa svim detaljima, tipom datoteke, veličinom rezolucijom i dr. Ukoliko kliknete na MP3 ili neku video datoteku u donjem delu će se pojaviti plejer, sa osnovnim funkcijama, koji ih reprodukuje. Klikom na pojedinačnu sliku uvek se otvara novi jezičak (tab), kao kod internet pretraživača. Možete otvoriti onoliko sličica ili fotografija koliko želite, lako prelaziti sa jezička na jezičak organizovati i obrađivati ih po želji i potrebi.
Za uređivanje slika (fotografija) raspolaže sa arsenalom alatki: Resize, Rotate, Crop, Lossless Rotate & Crop (jpeg), Adjust Brightness, Contrast, Auto Levels, Auto Contrast, Negative, Sepia, Canvas size, Solarize, Posterize, Shadow/Highlight, Red Eyes correction, Add Watermark (dodavanje vodenog žiga), JPEG lossless Transforms, Duplicate File Finder, Batch Processing, Batch Rename, Print Module, Modify Colors depth & palette i razni efekti za slike. XnView može koristiti i Photoshop filtere (.8bf). Harry's Filters 3.0 za Fotošop su uključeni u punoj verziji XnView -a.
Meta podaci (Metadata support & Editing (IPTC)) se mogu menjati ili potpuno obrisati.
XnView omogućava da kreirate svoj slajd šou (SlideShows) sa efektnim prelazima, Web Strane, Web HTML galerije, kontakt formulare (Contact Sheets), Video galerije (Video Thumbnails Gallery), File Listings, Strip of Images, hvatanje i snimanje ekrana (Capture screen) itd.
XnView je odličan besplatni program za slike koji se može koristiti za privatne, obrazovne i neprofitne svrhe.
Link za skidanje programa: