mp3DirectCut – program za sečenje pesama
mp3DirectCut je uređivač zvučnih datoteka (mp3 free audio editor). Osnovna funkcija mu je isecanje ili dodavanje delova mp3 muzičkih fajlova bez gubitka kvaliteta zvuka. Kada pokrenete mp3DirectCut videćete da su sve funkcije koje su vam potrebne lako dostupne i smeštene u glavnom prozoru.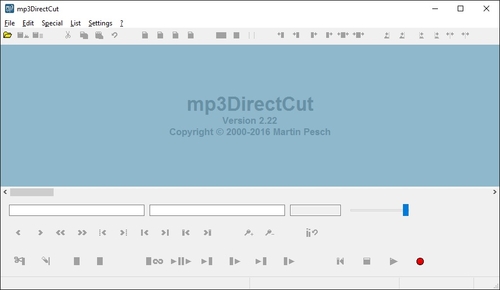 Program podržava MP3, MP2, AAC, Cue Sheets formate. Mada, primarno je napravljen za rad sa mp3 audio fajlovima. Kada otvorite mp3 datoteku ili neku drugu koju mp3DirectCut podržava ona će se pojaviti u klasičnom "WaveForm" prikazu koji sadrži samo visoke frekvencije, što i piše u prozoru prilikom otvaranja iste.
Obeležite početnu i krajnju tačku koju želite iseći. To možete uraditi obeležavanjem nekog dela muzičkog fajla mišem i klikom na ikonice u gornjem delu prozora. Pored selektovanja možete odrediti deo za sečenje unošenjem tačnog vremena u pravougaoniku Selection na sredini prozora.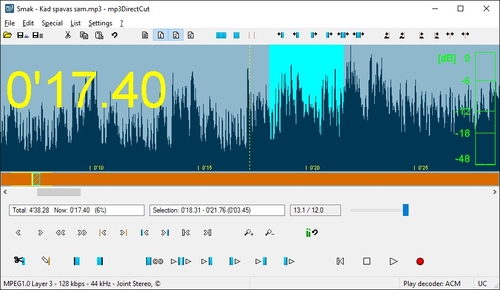 Pored klasičnih kontrola reprodukcije može se odslušati deo pre selekcije, deo posle selekcije ili selektovani deo što se radi preko ikonica (dugmića) u donjem delu prozora. Što se tiče snimanja fajla (Save), mogu se snimiti selektovani delovi (File => Save selection) ili ceo audio fajl (Save complete audio).
Format koji koristi sam program je .mpd (mp3DirectCut Projects) a u njega možete snimiti audio datoteku koju ćete obrađivati više puta.
Ovo su samo osnovne mogućnosti programa. Freeware mp3 cutter i Audio editor mp3DirectCut ima još dosta opcija za rad sa audio i mp3 fajlovima.
Program zauzima samo oko 500 kilobajta na disku. Besplatan je. Radi i kao portabl aplikacija sa fleške. Preveden je na preko dvadeset jezika.
Radi na Windows -u XP, Windows -u Vista, Windows -u 7, Windows -u 8/8.1 i Windows -u 10, na 32-bitnim i 64-bitnim verzijama. Ukoliko imate problema sa instalacijom na 64-bitnom Windowsu 10 startujte instalacionu datoteku kao administrator (desni klik na fajl pa Run as administrator).
mp3DirectCut je mali, odličan program i nezamenljiv je ukoliko želite da napravite džingl, zvuk za sms poruku ili da odsečete prazne ili nepotrebne delove u mp3 audio fajlu i to sve bez gubitka kvaliteta zvuka.
Program postoji i unapređuje se od 2000. godine. Ceo posao odlično odrađuje samo jedan čovek po imenu Martin Pesch. Ukoliko ste u mogućnosti možete donirati autora programa mp3DirectCut na ovoj adresi da biste podržali njegov rad.
Program možete skinuti sa adrese: