SUPERAntiSpyware Free Edition program za čišćenje spyware-a, adware-a i malware-a
SUPERAntiSpyware Free Edition je 100% besplatan program za čišćenje hiljada verzija Spyware-a, Adware-a, Malware-a, Trojanaca, KeyLoggers-a, Dialers-a, Hi-Jackers-a, Rootkit-ova, crva(Worms) kao i mnogih drugih tipova pretnji (kompjuterskih virusa). Brzo, kompletno i prilagođeno skeniranje hard diskova, usb memorija, memorija, registri baze, pojedinačnih direktorijuma itd. Posle skeniranja dobija se  potpuna informacija o otkrivenim pretnjama i njihova lokacija unutar računara. Log fajlovi omogućavaju vam da pregledate rezultate skeniranja u bilo kom trenutku. Tu je i karantin gde se smeštaju zaraženi fajlovi koji postaju nedostupni i virusi se ne mogu dalje širiti. Stavke iz karantina mogu da se vrate na računar, ako to želite ili se mogu trajno obrisati.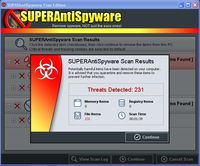 Postoji i portabl verzija SUPERAntiSpyware Portable Scanner Personal Edition. Besplatna Portabl verzija je pravo rešenje kada malware blokira instalaciju SUPERAntiSpyware Free Edition, Malwarebytes Anti-Malware -a ili nekog drugog (besplatnog) antivirus programa.
Portabl verziju prvo skinete sa sajta, klikom na dugme "Click here to download SUPERAntiSpyware portable". Sama datoteka uvek ima drugo ime kako bi se sprečilo da malware blokira pokretanje instalacije. Naziv datoteke je u obliku SAS_424C.EXE, SAS_404A544.EXE i sl. Prekopirate fajl na flešku ili CD kako bi ga upotrebili na zaraženom računaru. Prilikom pokretanja portabl verzije pojaviće se siguronosno upozorenje i tu treba kliknuti na RUN da bi se startovala instalacija programa i očistio računar od virusa.
Kada pokrenete SUPERAntiSpyware Free Edition, u početnom meniju, prvo što treba uraditi je nadograditi definicije (baze) virusa klikom na "Click here to check for updates".
Opcije Real-Time Protection, Scheduled Scanning i Automatic Updates nisu aktivne u besplatnoj verziji, markirane su crvenom trakom na kojoj piše "Not Protected". Klikom na neku od ove tri opcije SUPERAntiSpyware Free Edition prikazuje prozor u kome se nudi nadogradnja na Pro verziju.
Ostale tri su Scan This Computer, System tools, Help & Information i potpuno su funkcionalne.
Kada se klikne na  Scan This Computer prelazi se na meni koji nudi više tipova skeniranja. Complete Scan skenira sve fajlove i direktorijume na hard disku. Quick Scan služi za svakodnevno brzo rutinsko skeniranje. Critical Point Scan pronalazi aktivne viruse, malware i adware skenirajući poznata mesta na kojima se po pravilu oni nalaze. Quick Scan i Critical Point Scan imaju skoro istu funkciju samo je Quick Scan nešto temeljniji, dok je Critical Point Scan brži u pretraživanju. Custom Scan skenira fascikle i datoteke koje korisnik sam izabere i obeleži.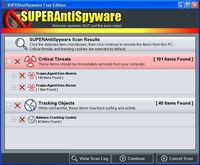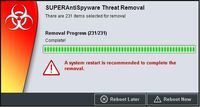 Pod System tools možete podešavati program, a tu su i razni alati za proveru, podešavanje i sređivanje računara. Preferences služi za podešavanje samog programa. System Investigator prikazuje šta je sve instalirano i koji programi su aktivni na kompjuteru. Scan Logs daje prikaz svih skeniranja i prikaz virusa, malware-a i adware-a koji su pronađeni. Advanced Scan Settings omogućava dodatno podešavanje skeniranja. Sa SUPERDelete File Removal brišu se datoteke koje se ne mogu obrisati klasičnim putem. Unwanted Programs briše programe koji su instalirani bez znanja korisnika računara, obično putem nekog malware-a. SUPERAntiSpyware Quarantine prikazuje listu pronađenih pretnji. Repairs popravlja štetu u registri bazi, koja je nastala delovanjem malware-a. Preko opcije Submit Malware Samples možete poslati sumnjivu datoteku SUPER Anti Spyware timu radi provere.
SUPERAntiSpyware Free Edition ne zauzima puno resursa računara i ne dolazi u konflikt sa postojećim antivirus ili anti malware programima. Koristan je program posebno njegova portabl varijanta.
Link za skidanje programa: