Windows Reliability Monitor – šematski prikaz problema u Windowsu 10
Windows Reliability Monitor је najbolji alat (program) koji će šematski prikazati probleme koji se pojavljuju i pomoći vam da ih rešite na Windows -u 10. Ovaj program prati ponašanje operativnog sistema i beleži istoriju promena.
Neke od njih su: vreme kada se program blokira ili se sam isključi, kada se pojavi "Plavi ekran", kada se instalira neki program, kada Windows instalira novu "zakrpu" (patch) ili nadogradnju (Updates), provera sistemskih grešaka, razna upozorenja, informacije o kritičnim događajima itd.
Ukoliko vam se dešava da vam na monitoru iskače "Plavi ekran" ili vam se računar resetuje a neznate zašto se to dešava, prilikom sledećeg startovanja računara u Windows Reliability Monitor -u možete da proverite koji program ili drajver uzrokuje problem. Stavke se mogu prikazivati po danima ili sedmično. Tu je i grafikon koji prikazuje stabilnost računara na skali od jedan do deset. Kada izaberete vremenski period (dan ili sedmica), u donjem delu ekrana videćete sve događaje. U ovom delu pored svake stavke možete dobiti tehničke detalje (View techical details) ili rešenje za taj problem (Check for a solution). Istoriju promena možete snimiti u .XML format klikom na "Save reliability history…". Kompletan spisak promena možete videti preko opcije "View all problem reports". U ovoj opciji možete i obrisati sve izveštaje klikom na dugme "Clear all problem reports". Klikom na "Check for solutions to all problems…" proverava se da li ima novih rešenja za sve probleme koje je Windows Reliability Monitor zabeležio.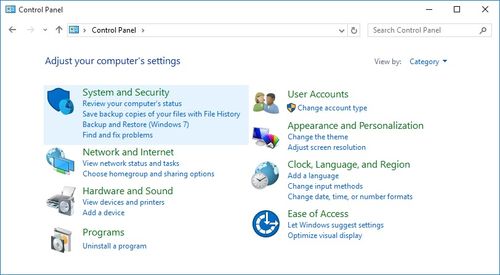 Da biste pokrenuli Windows Reliability Monitor prvo otvorite Control Panel.
To možete uraditi na nekoliko načina. Najčešći su: Desni klik na start dugme pa levi klik na Control Panel, u polje za pretragu otkucajte Control Panel i kliknite na isti kada se pojavi u rezultatu ili Start => All apps => Windows System => Control panel…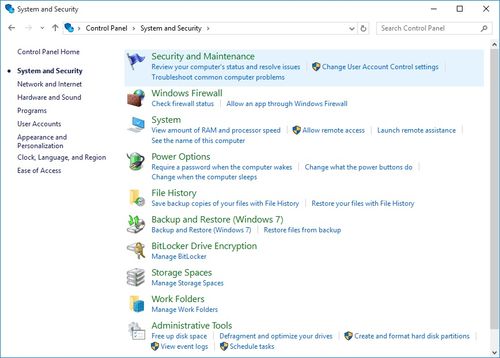 Kada ste otvorili Control Panel idite na System and Security => Security and Maintenance, pa kliknite na padajući meni Maintenance a zatim na View reliability history.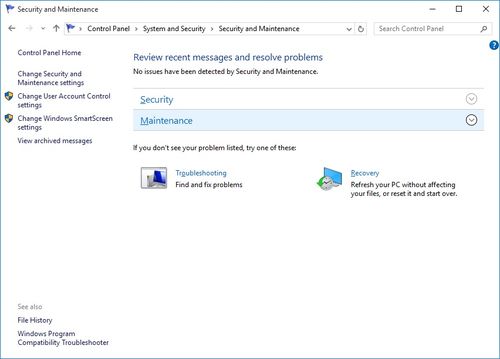 Windows Reliability Monitor je veoma koristan program, kada želite da nađete uzrok i rešite problem sa operativnim sistemom.