Panda antivirus free – antivirus u oblaku
Panda antivirus free je španski program za zaštitu i čišćenje kompjutera od virusa. Koristi veoma malo sistemskih resursa i vrlo je jednostavan za korišćenje. Trik je u tome što se sve operacije odvijaju u oblaku (tzv. cloud computing). I sve baze virusa su u "oblaku" i nije potrebno nikakvo ažuriranje istih. Ukoliko niste povezani na internet ne umanjuje se zaštita i funkcionalnost jer Panda ima lokalni keš koji se koristi tom prilikom.

Tokom instaliranja Panda free antivirusa biće vam ponuđene tri opcije. Prvu "Install Panda Safe Web with protection against malicious websites", koja ima funkciju obaveštavanja i zaštite od phishing -a, preporučujemo da instalirate. Panda Safe Web toolbar možete kasnije sakriti u internet pregledaču, ako ne želite da vam "smeta" prilikom surfovanja internetom. Ostale dve opcije ne morate instalirati.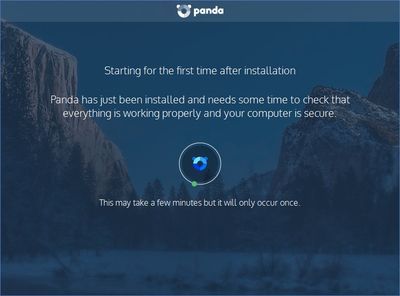 Kada prvi put startujete Panda AV program će proveriti sistem. Posle provere, pojaviće se prozor gde morate ukucati vašu email adresu da biste registrovali besplatnu verziju Panda cloud antivirus -a. Stići će vam poruka na e-mail gde treba kliknuti na dugme "Activate your account!".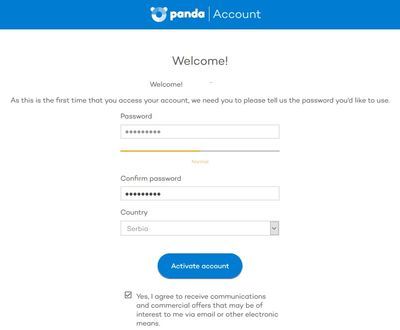 Na stranici koja će se otvoriti u pretraživaču odredite šifru za pristup vašem Panda nalogu i potvrdite klikom na dugme Activate account. Vratite se na prozor panda free antivirus -a i kliknite na Continue. Ovim je registracija završena.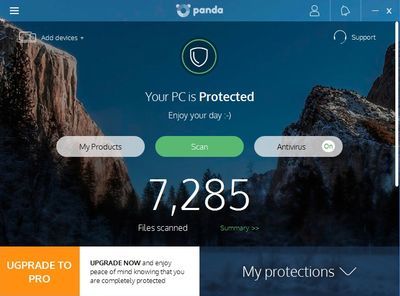 Dizajn interfejsa je karakterističan za operativni sistem Windows, a ima i podršku za ekrane osetljive na dodir. Sve je pregledno i lako za korišćenje.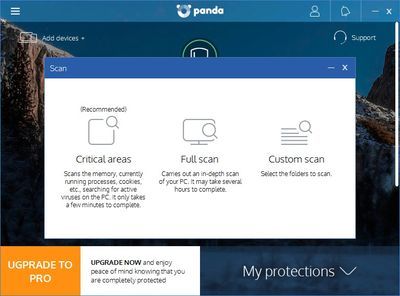 Klikom na Scan u početnom prozoru ponuđene su tri mogućnosti za skeniranje Critical areas, Full scan i Custom scan. Critical areas proverava memoriju, aktivne procese, kolačiće i dr. Ovo skeniranje traje kratko. Full scan pokreće kompletno skeniranje računara. Custom scan nudi proveru lokacija po izboru korisnika.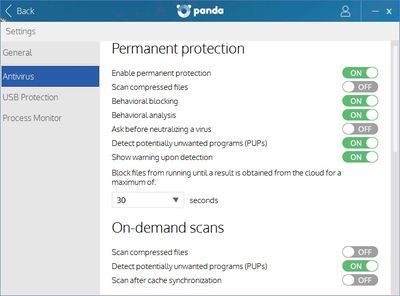 Preko Settings=>General i Settings=>Antivirus podešavate većinu opcija besplatnog programa Panda antivirus security.
Opcija Settings=>USB Protection nudi proveru fleški na viruse prilikom uključivanja.
Opcija Settings=>Process Monitor kontroliše sve aktivne procese na računaru.
Panda se može se instalirati na Windows -ima XP, Vista, 7, 8/8.1 i 10, Android -u i MacOS-u.
Ukoliko želite da deinstalirate Panda antivirus a imate problema da to uradite iz kontrolnog panela (Add or Remove Programs) skinite program sa internet adrese Panda uninstallera koji će kompletno ukloniti ovaj antivirus.
Panda je veoma dobar besplatan antivirus. Velike kompanije Samsung, Coca cola i Mercedes Benz, koriste Panda antivirus, što je još jedan dokaz kvaliteta ovog antivirus programa.
Adresa za skidanje Panda cloud Antivirusa: